New Custom Embroidered Firehouse Recliners for Narberth Vol. Fire Company (PA)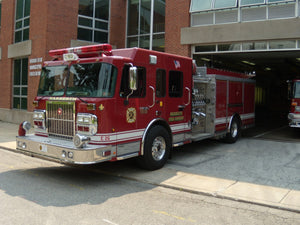 Narberth Volunteer Fire Company in Narberth, PA recently chose FireStationFurniture.com to provide new custom embroidered fire station recliners for their station.
"Just want to say job well done!" says AJ Arturi, who ordered the new recliners for the department.
Here is a picture of the firehouse recliner with patch and "Chartered 1897" embroidered:
For more information or to purchase custom embroidered recliners for your station, visit the product page here. These recliners are heavy-duty rocker firehouse recliners with a 250 lb. weight capacity. Available in black or brown synthetic leather.
The Narberth Volunteer Fire Company is a non-profit volunteer organization, which provides fire service to Narberth and sections of Wynnewood, Penn Valley and Merion, along with assisting the six Lower Merion Fire Companies. The active brigade of the Narberth Fire Company is made up of over 45 firefighters.
FireStationFurniture.com is a firefighter-owned and operated company proudly supplying top quality fire station furniture, firehouse recliners and mattresses to stations across the country. We offer a wide selection of solid-wood furniture, heavy-duty recliners, theater seating, mattresses and more.
For more information visit their website, www.firestationfurniture.com or email help@firestationfurniture.com.
Leave a comment
Comments will be approved before showing up.