Haw River NC Fire Department purchases new bunk room furniture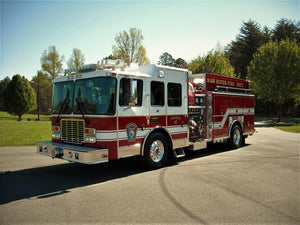 The Haw River Fire Department in Haw River, NC recently chose FireStationFurniture.com to provide new bunk room furniture for their fire station after adding sleeping quarters for paid personnel. They converted two offices to multi-use bunk rooms with convertible firefighter bunk beds, providing sleeping space for 4 firefighters. For more information on the bunk beds purchased, visit our website here.
Located in Central North Carolina, the Haw River Fire Department provides fire surpression, emergency medical services and fire prevention inspection services to people who live, work, and visit the small town. The combination department is made up of 3 career and 28 volunteer firefighters.
About us - Working Fire Furniture & Mattress Co., Inc. dba FireStationFurniture.com is a firefighter-owned and operated company proudly supplying top quality fire station furniture and mattresses to stations across the country. We offer a wide selection of solid-wood furniture, heavy-duty recliners, theater seating, firefighter bunk beds, mattresses and more. For more information visit their website, www.firestationfurniture.com or email help@firestationfurniture.com.
Leave a comment
Comments will be approved before showing up.