FDNY E52/L52 | CUSTOM BUILT FIRE DEPATMENT TABLE FOR DINING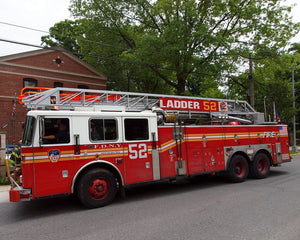 FDNY Engine 52/Ladder 52 in The Bronx recently purchased a new, custom built solid-wood fire department table for dining and dining chairs from FireStationFurniture.com.
This beautiful table produced by Wall Shields Co. was 7 months in the making, including all-new custom logos and graphics.
According to Lt. Gil Cabanas of Ladder 52, the house had been "discussing" a new table for years. After a couple of attempts at having someone build the table locally, they reached out to us for help. "Couldn't be happier! Money well spent. This table is the where we all gather, where we spend our time when we're not on a run or training. It will be here long after I leave, and it's something we can all be proud of. I have never in almost 20 years had every member of a firehouse be on the same page for a table and chairs. WE LOVE THEM!!"
Take a look at the pictures below - 
They also made good use of the old table that had been in the house for years. The table was cut up by the probies, and a "thin red line" flag was made from the table top to hang, along a new chair was made from the frame and some old hose. The chair is pictured with a new office chair that was made with one of the house's old logos, showing the history.
 
To see some of our custom-built firehouse tables and other custom logo furniture, take a look at our website here.
About the FDNY "52 House" -
Celebrating its 135th anniversary in 2019, Engine 52 was established in 1884, when Riverdale was still mostly undeveloped land — largely wooded and wild. It was built two years before the Statue of Liberty was completed. One year after the first cars crossed the Brooklyn Bridge. And just 19 years after the city formally established the Metropolitan Fire Department — the forerunner to the New York City Fire Department.
About FireStationFurniture.com -
FireStationFurniture.com is a firefighter-owned and operated company proudly supplying top quality fire station furniture and mattresses to stations across the country. We offer a wide selection of solid-wood furniture, heavy-duty recliners, theater seating, fire station tables, mattresses and more. For more information visit their website, www.firestationfurniture.com or email help@firestationfurniture.com.
Leave a comment
Comments will be approved before showing up.