Toyota Motor Manufacturing Indiana Industrial Fire Station Kitchen Table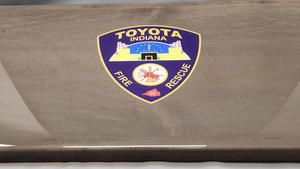 TOYOTA MOTOR MANUFACTURING INDIANA INDUSTRIAL FIRE STATION KITCHEN TABLE

FireStationFurniture.com is proud to have worked closely with Toyota Motor Manufacturing to provide quality firehouse furniture for the industrial fire station at their facility in Princeton Indiana. Toyota's choice of FireStationFurniture.com for the design, production, and acquisition of their unique Custom Logo Wood-Top Fire Station Kitchen Table represents a meaningful investment in the cohesive culture of their firefighters. We take great pride in knowing that our solid custom fire station kitchen table will serve as the central hub for their dining, socializing, and training activities related to Fire, EMS, HazMat, and Technical Rescue.
WHY BUY FIREHOUSE FURNITURE FROM US?
FireStationFurniture.com is the right choice for emergency services furniture solutions. We work closely with our customers to understand their needs and provide them with the best possible furniture. We believe that the right furniture can help to build a strong agency culture, and we are proud to offer products that showcase your workplace mission, pride, and ownership. FireStationFurniture.com offers various furniture options, including Custom Logo Furniture, Recliners & Sofas, Bunk Room, Day Room, Dining Room, Office, Mattresses, and Lockers & Storage furnishings, all Duty-Built® for your mission. 
MORE ABOUT THE TOYOTA MOTOR MANUFACTURING INDUSTRIAL FIRE DEPT.
The Toyota Industrial Fire Department protects a colossal $6.6 billion manufacturing facility, sprawling across 4.5 million square feet. Operating round the clock, this on-site industrial fire station plays a pivotal role in safeguarding the well-being of 7,500 dedicated employees responsible for crafting vehicles such as the Highlander, Sequoia, and Sienna. These skilled individuals oversee a range of critical tasks, from Stamping to Body Weld, Paint, and Plastics. The plant is strategically located in southwestern Indiana near the Ohio River which places the facility within a three-hour drive of major cities like Indianapolis, St. Louis, Nashville, and Louisville.
TOYOTA INDUSTRIAL FIRE STATION FIRE APPARATUS
Leave a comment
Comments will be approved before showing up.