ORANGE VILLAGE FIRE DEPARTMENT, CHAGRIN FALLS, OH | DUTY-BUILT® RESCUE CO. RECLINER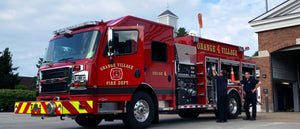 Orange Village Fire Department in Chagrin Falls, OH recently purchased the Duty-Built® Rescue Co. Recliner.
"We really appreciate the service that we received from FireStationFurniture.com. The recliners arrived and are very solid, which is important for furniture in a firehouse. The cost was also very reasonable and because of this, we will be ordering from you in the future."
This fire station recliner has a wide seat, pillow-padded arms and double back cushions for extra lower back support to provide the comfort firefighters want. The heavy-duty wood frame with reinforced arm supports and heavy-duty mechanism provides the durability that firefighters need.
Get more information on the Duty-Built® Rescue Co. 500 lb. rated Big & Tall Recliner.
About Orange Village Fire Department 
Orange Village Fire Department has 7 officers that oversee a department of 40 men and women that respond out of two stations. Our second satellite station is located in the new Pinecrest development. Orange Village Fire Department provides ongoing fire and medical training at weekly meetings. Medical director Dr. Robert Coleman, and specialists from Ahuja Medical Center of University Hospitals Health System provide continuing education in emergency medical techniques and standards. Each firefighter in the department is required to obtain yearly training to keep their EMS and Fire Certifications current.

The members of the Fire Department respond to calls 24 hours a day, 365 days per year. Responding to emergencies at all hours in any circumstances is only part of the job. The department also reaches out to the community by providing free health screening during public events, and welcoming civic groups who wish to tour the department.
About FireStationFurniture.com 
FireStationFurniture.com is a firefighter-owned and operated company proudly supplying top quality fire station furniture and mattresses to stations across the country. We offer a wide selection of solid-wood furniture, heavy-duty fire department recliners, fire station chairs, theater seating, fire station tables, mattresses and more. For more information, browse our site or email help@firestationfurniture.com.
Leave a comment
Comments will be approved before showing up.