Mansfield (CT) Fire Dept. | New Fire Station Recliners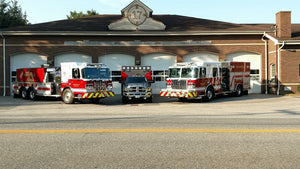 The Mansfield Fire Department in Mansfield, CT recently chose FireStationFurniture.com to purchase new fire station recliners.
The new Duty-Built Engine Co. Rocker Recliners will be delivered to the stations later this week. These recliners are comfortable and durable, making them a great fire station recliner!
For more information on these fire station recliners or to purchase, visit our website here. 
About the Mansfield Fire Department -
The Town of Mansfield, located in the northeast hills of Connecticut, is home to approximately 23,000 people. Located within its boundaries is Storrs, home of the University of Connecticut. The Mansfield Fire Department consists of 3 fire houses to cover 45 square miles of mixed urban and rural developments. We are a combination department, employing 20+ full time and part time firefighter/EMT's, and supported by an additional volunteer staff of men and women dedicated to serving their community. While the department was officially founded in 2005, we are the final combination of the Eagleville Fire Department and the Mansfield Volunteer Fire Company which have been serving the community since the 1930's.
About FireStationFurniture.com - 
FireStationFurniture.com is a firefighter-owned and operated company proudly supplying top quality fire station furniture and mattresses to stations across the country. We offer a wide selection of solid-wood furniture, heavy-duty recliners, theater seating, fire station tables, mattresses and more. For more information visit their website, www.firestationfurniture.com or email help@firestationfurniture.com.
Leave a comment
Comments will be approved before showing up.