LOWNDES COUNTY FIRE RESCUE, LOWNDES COUNTY, GA | DUTY-BUILT™ CUSTOM LOGO MEETING ROOM CHAIRS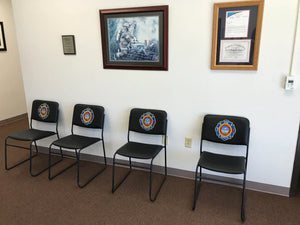 Lowndes County Fire Rescue in Lowndes County, GA is one of our best repeat customers, recently purchasing several Duty-Built™ Custom Embroidered 500 lb. Rated High Density Stacking Chair with a Sled Base.
These custom logo meeting chairs are tested to 500-lb weight capacity. Available in black vinyl or fabric upholstery, with a 17 gauge steel frame, these chairs are professional, comfortable and durable. 
"To date, Lowndes County Fire Rescue has purchased 21 Firehouse Collection Classic Beds w/Storage Lockers, 21 Firehouse Collection Classic Nightstands, 4 Duty-Built Rescue Co. Recliners, 2 Duty-Built Pro Double Reclining Loveseats, 18 Duty-Built Custom Logo Office Chairs, and 6 Duty-Built Custom Logo Stacking Chairs. The beds with storage lockers are very sturdy and perfect for our firefighter's three shifts. The recliners and loveseats are well built and very comfortable for that down time. The custom logo office chairs are professional looking and a point of pride. Brandon, Cissy, and Kristin are super nice and were very helpful. Their customer service can't be beat! We WILL be ordering again soon!"
Get more information about the Duty-Built Custom Embroidered Meeting Chairs.
About Lowndes County Fire Rescue
Lowndes County Fire Rescue is a multi-functional emergency response agency with the responsibility of providing a broad range of services, both emergency and non-emergency, to the community. Those services include not only emergency operations such as fire extinguishment, water rescue, and vehicle extrication but we also provide public education, fire prevention and inspections, and code enforcement throughout Lowndes County. We have 4 fully staffed stations and 14 volunteer stations.
About FireStationFurniture.com 
FireStationFurniture.com is a firefighter-owned and operated company proudly supplying top quality fire station furniture and mattresses to stations across the country. We offer a wide selection of solid-wood furniture, heavy-duty fire department recliners, fire station chairs, theater seating, fire station tables, mattresses and more. For more information, browse our site or email help@firestationfurniture.com.
Leave a comment
Comments will be approved before showing up.