KING GEORGE FIRE, RESCUE & EMERGENCY SERVICES, KING GEORGE, VA | DUTY-BUILT® CUSTOM EMBROIDERED SOFA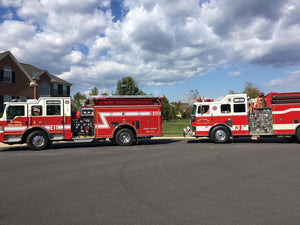 King George Fire, Rescue & Emergency Services in King George, VA recently purchased Duty-Built® Custom Embroidered Stationary Sofas.
"When searching for replacement furniture, we decided on Fire Station Furniture because of the sheer number of positive reviews. Throughout the process of designing and delivery, they were great. We received sturdy items that should last us for many years. It looks great and is comfortable. The custom embroidery is spectacular. Without a doubt, the next time I have a need for their products, I'll be in touch!"

This custom embroidered sofa has antimicrobial synthetic leather that is easy to clean and can be safely disinfected with a bleach + water solution to keep crews safe. It is available with or without your department's logo or patch embroidered on the headrest.
Get more information on Duty-Built® Custom Embroidered Stationary Sofas.
About King George Fire, Rescue & Emergency Services 
King George County, Department of Fire, Rescue, and Emergency Services is a combination volunteer and paid department comprised of many dedicated men and women. They proudly serve the citizens with a variety of "all hazard" services including advanced life support, emergency and disaster planning, fire prevention, fire suppression, hazardous materials mitigation, vehicle rescue and water rescue. Services are provided 24 hours a day operating from three stations throughout the County. The department protects approximately 25,000 residents and covers 182 square miles, responding to over 3000 calls annually.
About FireStationFurniture.com 
FireStationFurniture.com is a firefighter-owned and operated company proudly supplying top quality fire station furniture and mattresses to stations across the country. We offer a wide selection of solid-wood furniture, heavy-duty fire department recliners, fire station chairs, theater seating, fire station tables, mattresses and more. For more information, browse our site or email help@firestationfurniture.com.
Leave a comment
Comments will be approved before showing up.